Meet Our Staff
Carl Heideman is a state of Michigan certified Master Mechanic (license #M177417). This certification includes the following areas:
Engine Repair
Engine Tune-up/Performance
Front End, Suspension & Steering Systems
Brakes & Braking Systems
Automatic Transmission
Manual Transmission
Front & Rear Axles
Electrical Systems
Heating & Air Conditioning
Collision-related Mechanical Repair
Unitized Body Structural Repair
Carl has over 20 years experience in body repair and has taken fabrication courses from Fay Butler, Ron Fournier, and Ron Covell. In August, 2001, and September, 2002, Eclectic Motorworks hosted Ron Covell's travelling workshops.
In addition to offering seminars at Eclectic Motorworks, Carl has taught seminars at University Motors, Steve's Antique Auto Repair, the Carlisle Import/Kit Nationals, and many British car events around the country.
Carl has written technical articles for several automotovie magazines, including British Car, Classic Motorsports, Grassroots Motorsports, North American Classic MG, and VW Trends.
Alan Dalman is the manager at Eclectic Motorworks. With BA's in Business Administration and Economics from Hope College, he handles all of the office duties, parts sales and even gives shop tours. Alans daily driver from March thru November is a 1973 MGB/GT that sees more miles in one season than most cars see in 10. It has been featured in several articles in Classic Motorsports Magazine. His other projects include a 1966 Norton Atlas motorcycle, a 1971 Honda CB350 motorcycle, and most recently a 1974 Volkswagen Beetle.
Brent Vanderbie is Eclectic Motorworks main mechanic. After serving in the United States Air Force maintaining front-line aircraft Brent decided to dedicate his time to more-earthbound pursuits. Before joining Eclectic Brent worked in Kalamazoo, MI and Holland, MI servicing imports of all makes. Brent owned and drove a Triumph Spitfire while in the Air Force stationed in the UK and currently owns several Volkswagens.
John Hutchinson retired from practicing law to join Eclectic Motorworks part-time. John specializes in assembly and detail-oriented work and has just completed a ground-up restoration of a 1965 Austin Healey 3000 which is the envy of Healey owners from coast to coast.
Gary Windemuller rounds out the help at Eclectic Motorworks. Gary works part-time at the shop and helps with parts manufacturing and general maintenance duties. Gary drives a 1973 MGB roadster that was restored by Carl many years ago.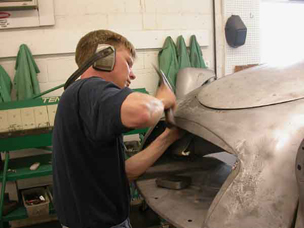 Carl Heideman - working on an MGA nose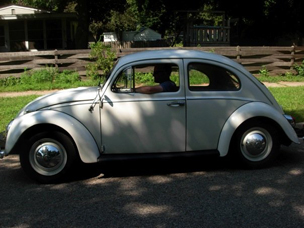 Brent Vanderbie - driving a decidedly un-British auto.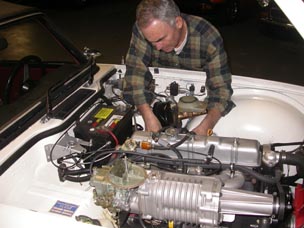 John Hutchinson - working on the Supercharged TR-6 project.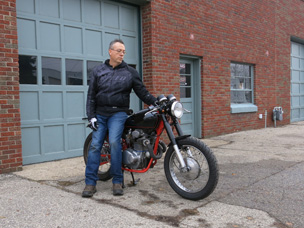 Alan Dalman - With his freshly-completed Honda CB350. Or as Carl calls it, his "hawg".